Welcome to the Villa Toscano blog, here is where we will be highlighting events and news from around the winery.
INTRODUCING OUR NEW WHITE SANGIOVESE!
The newest unusual wine in our line, White Sangiovese. Bright aromas
of wihte peach,banana taffy; Bartlett pear and macadamia nut.
Flavors of crisp ripe pear and under ripe kiwi,complimented
by honey and lime sorbet on the finish.
Now available in our tasting room at Villa Toscano. Cheers!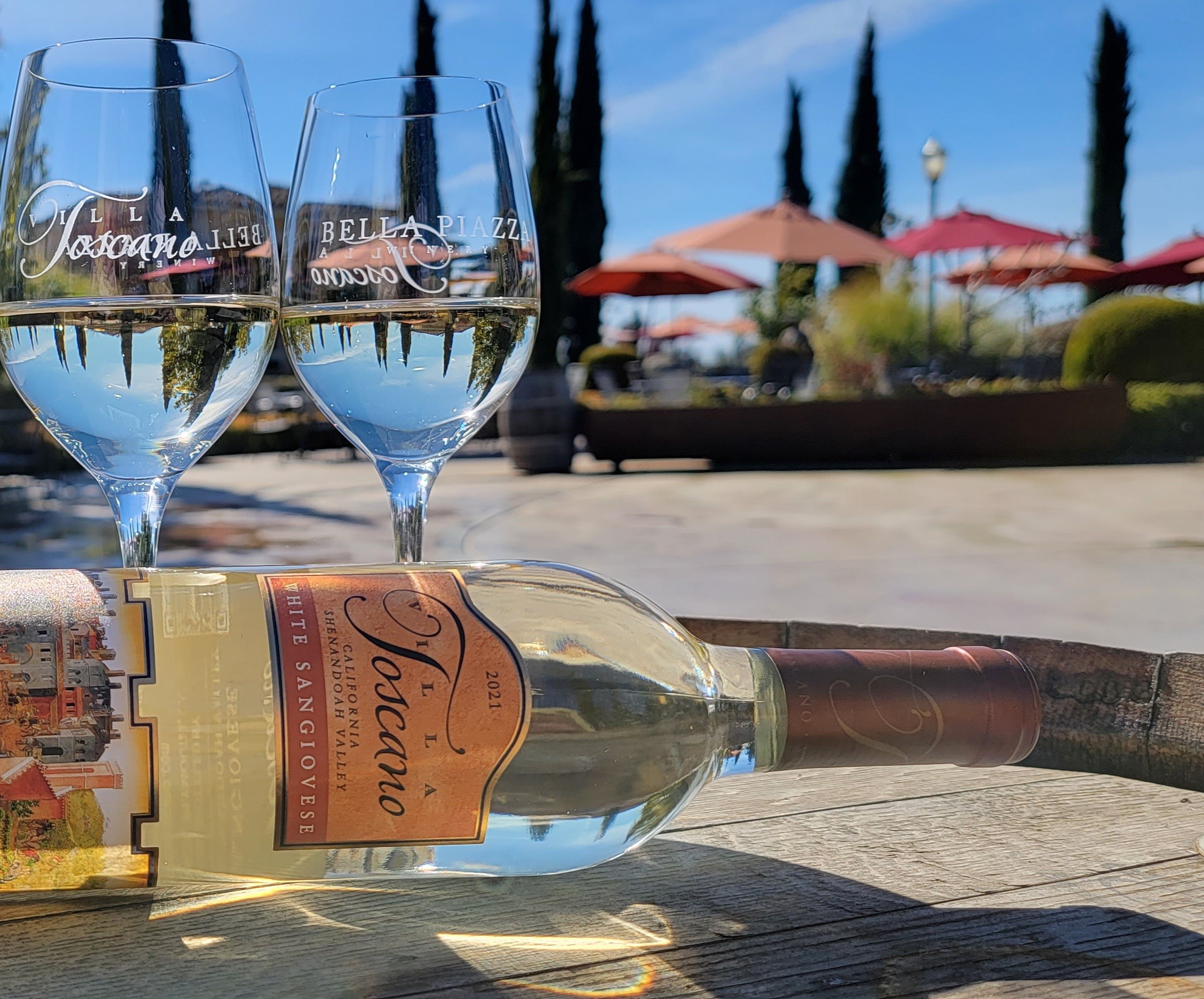 _________________________________________________
VILLA TOSCANO PORT BALLS -Author: Cathy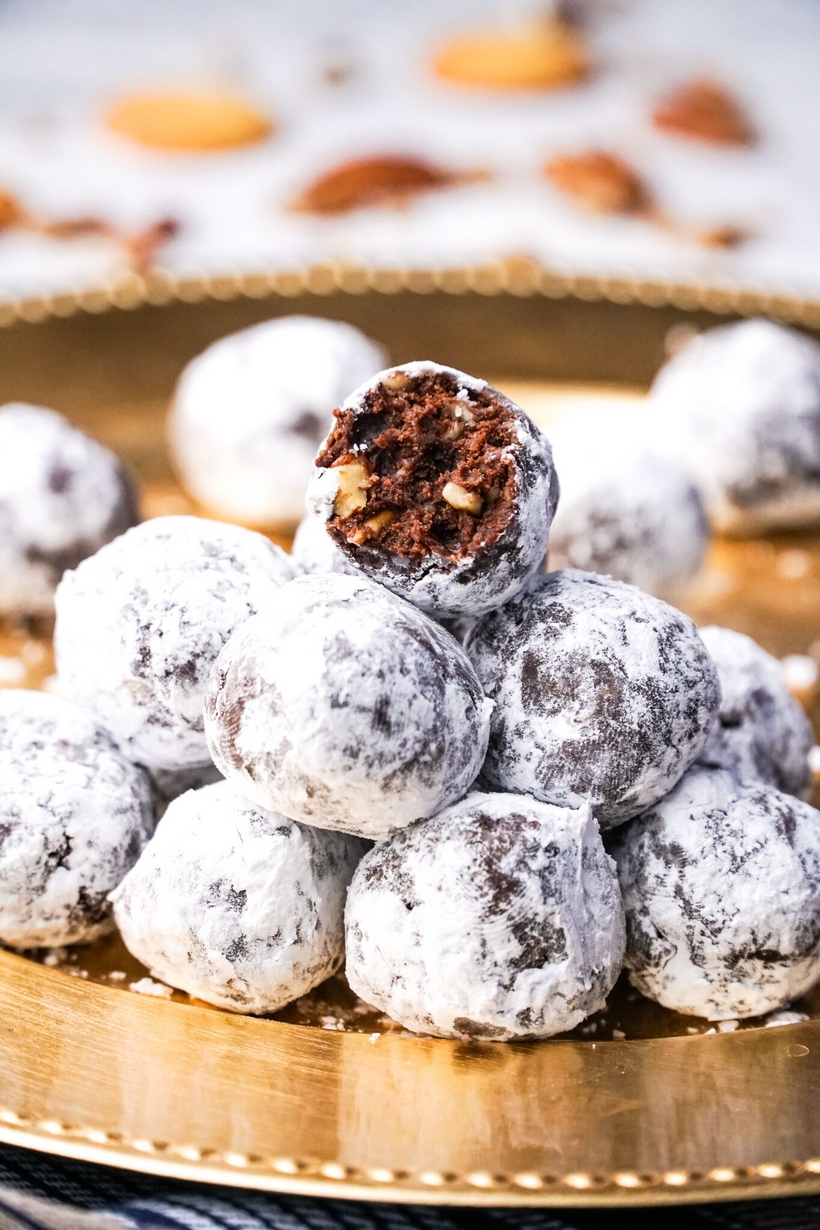 VILLA TOSCANO PORT BALLS -Author: Cathy
Sophisticated and elegant, these Port Balls are a festive dessert for any occasion. The port and cocoa meld together, erupting into a smooth and warming flavor, sans any raw alcohol taste. Perfect for gifting too.
Prep Time15 mins
Total Time15 mins
INGREDIENTS
1 12 oz package Nilla wafers
1/2 cup unsweetened Dutch-process cocoa powder
1 cup pecans, whole
3/4 cup pecans, coarsely chopped
1/4 cup dark corn syrup
1/2 cup Villa Toscano Port
1/2 cup confectioners' sugar
INSTRUCTIONS
In a food processor, whirl vanilla wafers, cocoa powder and 1 cup whole pecans until fine crumbs form.
Add Port and corn syrup to the crumb mixture and whirl again until blended. Scoop out the very sticky mixture into a bowl and add 3/4 cup coarsely chopped pecans. Mix in pecans with a spoon until fully incorporated.
Roll into 1-inch balls and place on parchment paper.
Roll each ball in powdered sugar and place on a lovely tray.
______________________________________________________________
HOT MULLED WINE, A HOLIDAY TRADITION!

INGREDIENTS
1 (750-ml.) bottle 0f Villa Toscano Harmony
1 orange, sliced into rounds, plus more for garnish
6 whole cloves
3 cinnamon sticks, plus more for garnish
3 star anise
1/4 c. honey
1/2 c. brandy
DIRECTIONS In a medium saucepan over medium heat, combine all ingredients. Bring to a simmer not a boil, then reduce heat to medium-low. Simmer gently over low heat for 10 minutes. Serve warm and garnish with more citrus slices and cinnamon sticks.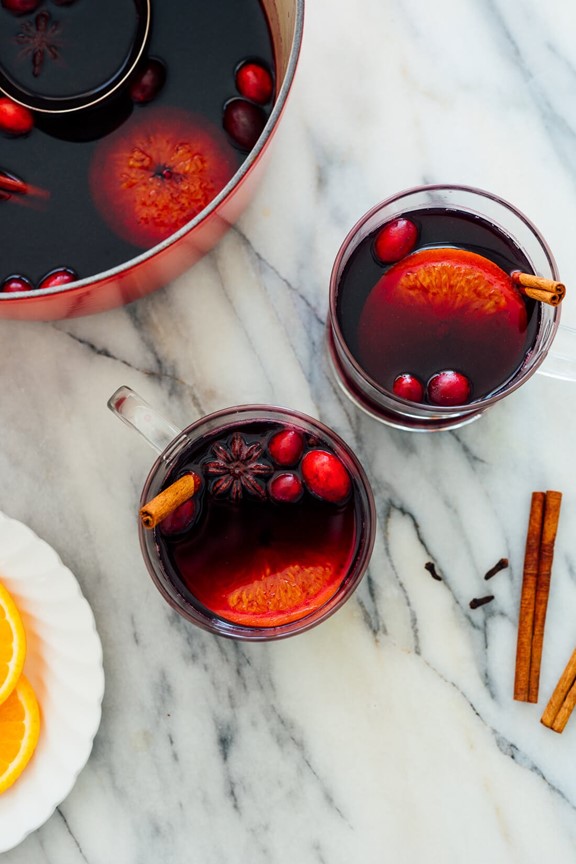 Bring wine country home with a Virtual Tasting from Villa Toscano & Bella Piazza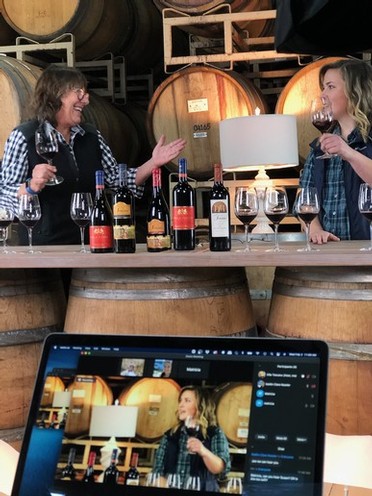 This remote tasting experience provides you with our wines by bringing the wine country to your home. Meetings are by appointment, and your tasting kit will include five wines. We will ship each wine tasting kit to arrive within a short time before your scheduled date. Appointments offered every Friday and Saturday at 3pm (PST). CLICK HERE to learn more!

Recipe prepared by our talented Executive Chef, Michael Powers. A delicious and satisfying soup on a cold night.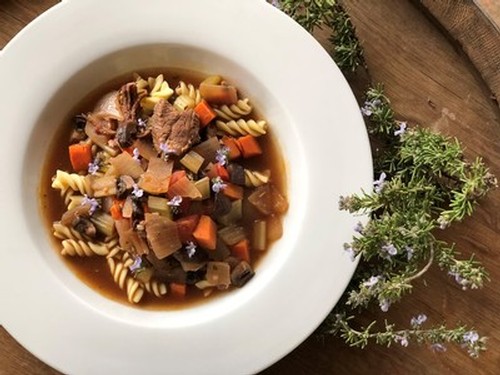 By Chef Michael Powers
6-8 servings
INGREDIENTS
1 lb. chopped beef
2 c. diced onion
1 c. diced celery
1 c. diced carrot
1 c. sliced Crimini mushrooms
1 T. minced garlic
1 t. chili flake
1 bottle Villa Toscano or Bella Piazza red wine
8 c. beef broth
1 c. diced tomatoes
1 bunch chopped parsley
1 chopped sprig Rosemary
4 c. cooked Rotini pasta
Salt & pepper to taste
DIRECTIONS
In a large stock pot on high heat sear beef then add vegetables and garlic. Sauté until translucent, add wine and reduce by half. Add stock and pasta. Let simmer for 20-30 minutes. Garnish with fresh rosemary. Serve with a glass of Stellina and enjoy!

Erika has picked another great recipe. Why not try an Italian tradition this year? Lentils are served on New Year's Eve after midnight. The lentils, with their coinlike shape, represent luck and prosperity. The magic of lentils is in their round shape thought to resemble Roman coins, therefore symbolizing money and prosperity. So traditionally, Italians consider eating lentils to bring good luck and fortune to the family for the upcoming year.

It has been said that a good glass of wine can create beautiful music …. Music that creates memorable experiences…. "Drink the wine, Enjoy the Music"
Andrea Bocelli blended with a Villa Toscano wine Is a perfect Holiday!
Merry Christmas!

My fondest memories of the Holidays were when I was a child.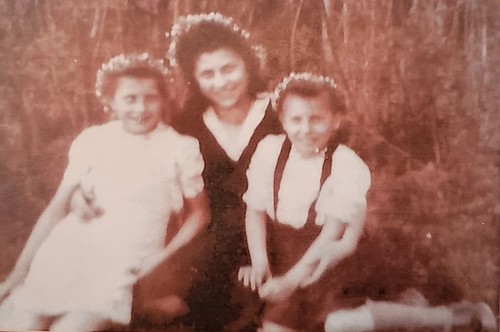 The smells from my mothers and grandmothers' kitchens, the laughter of the adults having fun with friends who would drop by to celebrate. Relatives visiting from all over to spend a festive holiday week at my mother's house. Deep snow drifts where my siblings and cousins worked diligently all day making crispy snow angels and building huge snowmen, all different one funnier than the other.
These are the memories I always want to recreate during the holidays, memories that are steeped deep in family tradition, memories of a perfect holiday.
I have always been one for holding tight to tradition, right down to creating our wines here at Villa Toscano and Bella Piazza. I believe it is tradition that holds things together, that brings back the good memories of the times before, and models how the future will be experienced, so much like the process of the wine.
I would like to wish all of you a memorable holiday that will soon become your families traditions.
Happy Holidays from all of us at Villa Toscano & Bella Piazza, it is a pleasure to have you all in our family.
Cheers,
Erika & Jerry Wright


Have you ever tried an authentic clam liguine pasta? Jamie Oliver has done it again. Erika has picked one of his recipes to inspire you to try something different. This incredible pasta wouldn't be complete without a good wine. Erika has selected one of her favorites: Villa Toscano Pinot Grigio. It pairs wonderfully with Jamie Oliver's Clam Pasta recipe. You can also use it in the sauce.

Once you make the pasta, share it on Instagram and tag us #villatoscano


instagram.com/villabellawineries/

Wine:
2020 VT Pinot Grigio
Full Recipe:

Ingredients
150 g dried linguine
2 cloves of garlic
1 bunch of fresh flat-leaf parsley
500 g clams , scrubbed, from sustainable sources
olive oil
1 pinch of dried red chilli flakes
125 ml dry white wine
extra virgin olive oil

Erika's Thanksgiving Recipe Recommendation
Jamie Oliver is an incredible chef. Erika has chosen one of his recipes to inspire you this Thanksgiving. With the title "The best turkey in the world", it is quite promising. This amazing dinner wouldn't be complete without a good wine. Erika has selected one of her favorites: Villa Toscano Centurion Old Vine Zinfandel. It pairs wonderfully with Jamie Oliver's Turkey recipe, especially with the flavored butter. It is a must to have a bottle of Centurion Old Vine Zinfandel and roast turkey.
Jamie Oliver Awesome Roast Turkey
Ingredients
14-18 Lb higher-welfare turkey
flavoured butter
2-4 clementines
a few sprigs of fresh herbs
1 sprig of fresh rosemary
2-3 carrots
3 onions , peeled
2 sticks celery


We understand that every time you come to Villa Toscano, you have emerged in a piece of Tuscany with a Californian flair. We would like to extend this experience to your home while drinking our wines. Research conducted by the University of Oxford, which found that changes in sounds can affect the taste of wine.
We have selected a couple of Spotify playlists for you. Now you can enjoy our wines while listening to some great music that Erika has specially chosen for the weekend. Have a wonderful weekend.
Cheers, Villa Toscano & Bella Piazza!
Playlist to drink at any time.

An outstanding wine with an outstanding price. Incredible 9.4 from Delectable App. Get a case of this incredible wine, Villa Toscano Centurion Old Vine Zinfandel for $15.84 per bottle ($190/case) when you get a case.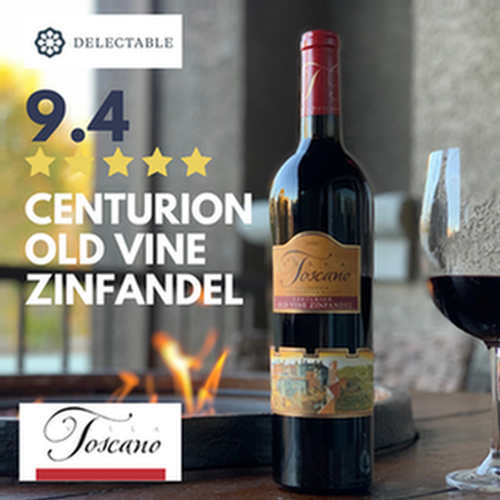 Erika's Reserve Zinfandel is an exceptional wine at a great price. It received 9.3 out of 10 - reviews from Delectable. We had a huge request from members that have missed our special promotion last month. We decided to extend our Erika's Reserve Zinfandel price over this weekend. And why not join our wine club?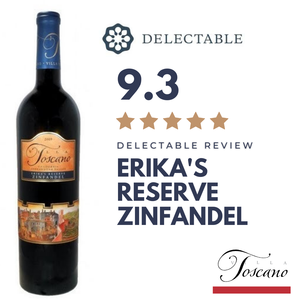 From $57 to $15.84/ bottle when you purchase a case.
Offer valid until November 16th, 2020