June 14, 2022 | Toscano Villa
Braised Short Ribs by Villa Toscano Chef Mike
What's the beef?
Perfect wine for this recipe: Erika's Reserve Zinfandel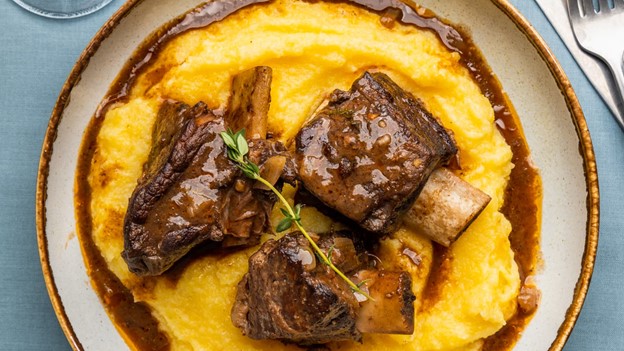 SHORT RIBS
3 CUPS -Medium chopped onions
2 CUPS- Medium chopped celery
2 CUPS-Medium chopped carrots
4 – Roma tomatoes cut in half
6-cloves of garlic
1-Bottle of Villa Toscano Barbera
1-bunch of rosemary two stalks
2 quarts of Beef Stock
Salt and Pepper to taste
Oil for cooking
In a large pan on high heat add ½ cup of oil .
Sear all pieces of Beef on all sides then remove from pan and put into a baking dish.
In same pan add onions, celery, carrots, tomatoes and garlic.
Sautee until onions are translucent, add tomatoes and bottle of Villa Toscano Barbera and
Reduce by ½.
Add all content of pan to baking dish with beef stock and tomatoes.
Cover and Bake 350 degrees F for 3 hours and let rest.
Strain all juice from baking pan and reduce by ½
Salt and Pepper to taste and Enjoy!
This dish is delicious on top of Polenta or on top of mashed potatoes.
Comments
Commenting has been turned off.