January 2, 2021 | Toscano Villa
Braised beef soup with hearty vegetables
Recipe prepared by our talented Executive Chef, Michael Powers. A delicious and satisfying soup on a cold night.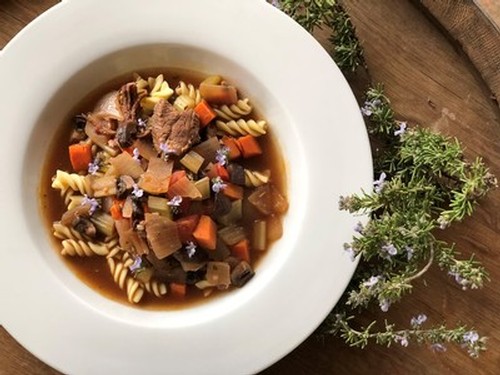 By Chef Michael Powers
6-8 servings
INGREDIENTS
1 lb. chopped beef
2 c. diced onion
1 c. diced celery
1 c. diced carrot
1 c. sliced Crimini mushrooms
1 T. minced garlic
1 t. chili flake
1 bottle Villa Toscano or Bella Piazza red wine
8 c. beef broth
1 c. diced tomatoes
1 bunch chopped parsley
1 chopped sprig Rosemary
4 c. cooked Rotini pasta
Salt & pepper to taste
DIRECTIONS
In a large stock pot on high heat sear beef then add vegetables and garlic. Sauté until translucent, add wine and reduce by half. Add stock and pasta. Let simmer for 20-30 minutes. Garnish with fresh rosemary. Serve with a glass of Stellina and enjoy!
Comments
Commenting has been turned off.