Welcome to the Villa Toscano blog, here is where we will be highlighting events and news from around the winery.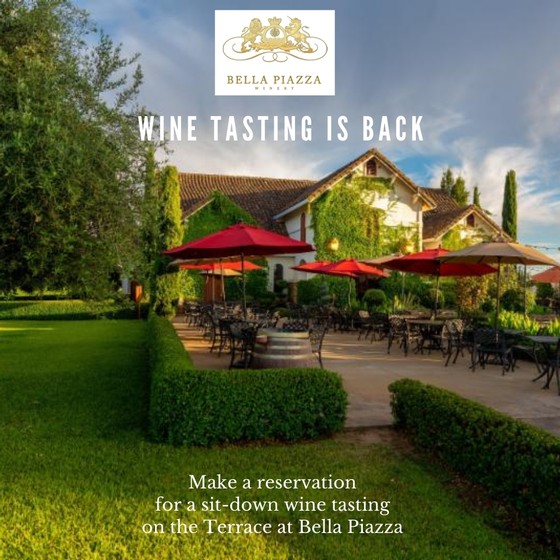 Make a reservation for a sit down wine tasting on the Terrace.
Lunch available
Saturdays 11- 4pm
Reservations 209-245-3800
Club Member Pasta Luncheon is moving back to Bella
Sundays, starting March 14th
11am - 3:30 pm
Join Us!
We are looking forward to seeing you.

Meet Oliver "Ollie" Winston. This adorable one year old French Bull dog was named after the late Winston Churchill. Do you see the resemblance? He is playful, outgoing, mischievous and adores people. Villa Toscano was his very first outing as a pup and he still enjoys visiting; especially on wine club pasta days!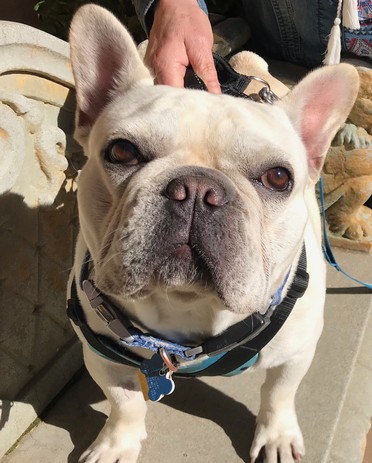 Invite your friends and make your reseravtion for this unique experience.

Red wine cocoa is rich, chocolatey and gloriously boozy. It's the perfect Valentine's Day treat for adults!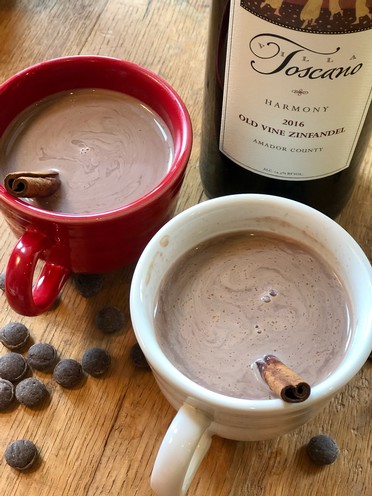 RECIPE-
2/3 cup semisweet chocolate chips
2/3 cup Villa or Bella dry red wine
1/2 cup milk
1/2 cup half and half
2 tablespoons sugar (optional)
Pinch of salt
1/2 teaspoon vanilla
Cinnamon stick

Combine chocolate chips, milk, half and half, sugar (if using), in a small sauce pan over medium-low heat. Heat, constantly, until chocolate chips are melted and the mixture is hot.

Remove from heat and stir in vanilla and salt. Pour into mugs, add cinnamon stick and enjoy!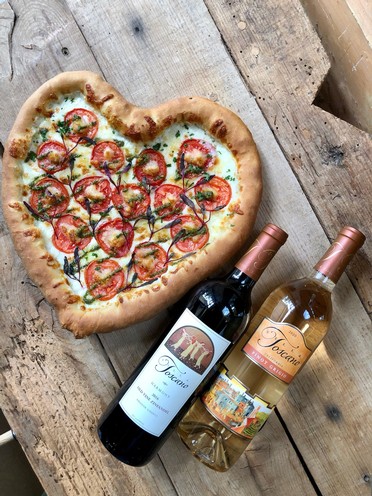 Impress your sweetie this Valentine's Day with our pizza and wine special. Your choice of the 2020 Pinot Grigio or 2016 Harmony Old Vine Zinfandel and a Margherita pizza for $25! Come on by and enjoy here, or take home!

Bring wine country home with a Virtual Tasting from Villa Toscano & Bella Piazza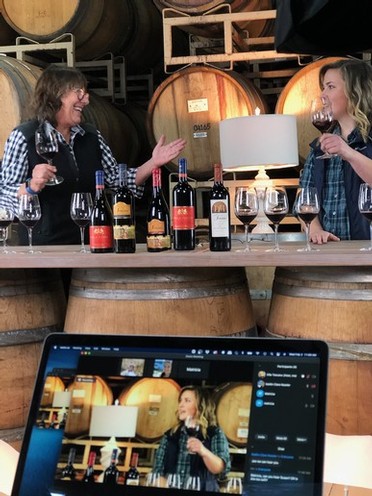 This remote tasting experience provides you with our wines by bringing the wine country to your home. Meetings are by appointment, and your tasting kit will include five wines. We will ship each wine tasting kit to arrive within a short time before your scheduled date. Appointments offered every Friday and Saturday at 3pm (PST). CLICK HERE to learn more!

Recipe prepared by our talented Executive Chef, Michael Powers. A delicious and satisfying soup on a cold night.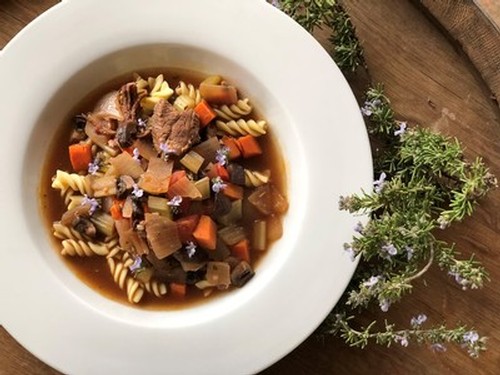 By Chef Michael Powers
6-8 servings
INGREDIENTS
1 lb. chopped beef
2 c. diced onion
1 c. diced celery
1 c. diced carrot
1 c. sliced Crimini mushrooms
1 T. minced garlic
1 t. chili flake
1 bottle Villa Toscano or Bella Piazza red wine
8 c. beef broth
1 c. diced tomatoes
1 bunch chopped parsley
1 chopped sprig Rosemary
4 c. cooked Rotini pasta
Salt & pepper to taste
DIRECTIONS
In a large stock pot on high heat sear beef then add vegetables and garlic. Sauté until translucent, add wine and reduce by half. Add stock and pasta. Let simmer for 20-30 minutes. Garnish with fresh rosemary. Serve with a glass of Stellina and enjoy!

Erika has picked another great recipe. Why not try an Italian tradition this year? Lentils are served on New Year's Eve after midnight. The lentils, with their coinlike shape, represent luck and prosperity. The magic of lentils is in their round shape thought to resemble Roman coins, therefore symbolizing money and prosperity. So traditionally, Italians consider eating lentils to bring good luck and fortune to the family for the upcoming year.

It has been said that a good glass of wine can create beautiful music …. Music that creates memorable experiences…. "Drink the wine, Enjoy the Music"
Andrea Bocelli blended with a Villa Toscano wine Is a perfect Holiday!
Merry Christmas!