Virtual Wine Tasting
You are invited to a virtual wine tasting!
Thinking about catching up with friends who live far away or even just around the corner? Share a fun virtual wine tasting experience with them. Invite your friends, family, work colleagues, for a virtual wine tasting experience with the Villa Toscano/ Bella Piazza winemakers.
This informal wine tasting is packed full of fun information about wine, how to choose wines, what to expect from a bottle of wine and even how to drink wine. A great way to visit with your friends and experience some new things about wine, you may not have known.
Bring a taste of wine country to your living room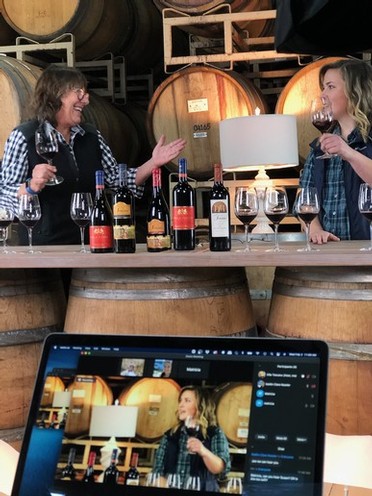 This remote tasting experience provides people with our wines by bringing the wine country to their home.
Meetings are by appointment and your tasting kit will include five wines. We will ship each wine tasting kit to arrive within a short time before your scheduled date. Appointments are offered Fridays and Saturdays.
Conference just yourself or invite family and friends no matter how far away they are*. This unique wine tasting event is engaging and lots of fun! This tasting experience will last approximately 60 minutes and your knowledgeable Villa Toscano host will go into depth about the wines and stories behind them, winery history, as well as a journey through your senses you use to taste, and suggested food pairings.
OPTION 1-
PRIVATE TASTING WITH OUR WINEMAKER
4 persons minimum –10 maximum
Time options | $75 PER PERSON
OPTION 2-
GROUP TASTING HOSTED BY WINERY EDUCATOR
Limited to 10 participants
​Fridays at 3pm | $50 PER PERSON
*We ship to: AZ, CA, CO, FL, GA, ID, IA, IL, KS, LA, MD, ME, MI, MN, MO, MT, NC, NH, NM, NV, NY, OH, OR, TN, TX, VA, WA, WI and WY.
Call 209.245.3800 or Email office@villatoscano.com