Welcome to the Villa Toscano blog, here is where we will be highlighting events and news from around the winery.

Erika's Thanksgiving Recipe Recommendation
Jamie Oliver is an incredible chef. Erika has chosen one of his recipes to inspire you this Thanksgiving. With the title "The best turkey in the world", it is quite promising. This amazing dinner wouldn't be complete without a good wine. Erika has selected one of her favorites: Villa Toscano Centurion Old Vine Zinfandel. It pairs wonderfully with Jamie Oliver's Turkey recipe, especially with the flavored butter. It is a must to have a bottle of Centurion Old Vine Zinfandel and roast turkey.
Jamie Oliver Awesome Roast Turkey
Ingredients
14-18 Lb higher-welfare turkey
flavoured butter
2-4 clementines
a few sprigs of fresh herbs
1 sprig of fresh rosemary
2-3 carrots
3 onions , peeled
2 sticks celery


We understand that every time you come to Villa Toscano, you have emerged in a piece of Tuscany with a Californian flair. We would like to extend this experience to your home while drinking our wines. Research conducted by the University of Oxford, which found that changes in sounds can affect the taste of wine.
We have selected a couple of Spotify playlists for you. Now you can enjoy our wines while listening to some great music that Erika has specially chosen for the weekend. Have a wonderful weekend.
Cheers, Villa Toscano & Bella Piazza!
Playlist to drink at any time.

An outstanding wine with an outstanding price. Incredible 9.4 from Delectable App. Get a case of this incredible wine, Villa Toscano Centurion Old Vine Zinfandel for $15.84 per bottle ($190/case) when you get a case.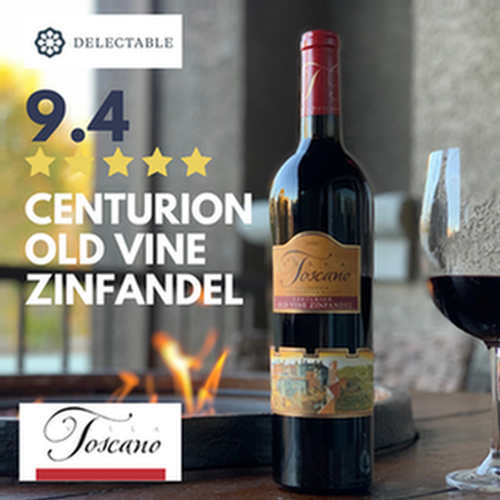 Erika's Reserve Zinfandel is an exceptional wine at a great price. It received 9.3 out of 10 - reviews from Delectable. We had a huge request from members that have missed our special promotion last month. We decided to extend our Erika's Reserve Zinfandel price over this weekend. And why not join our wine club?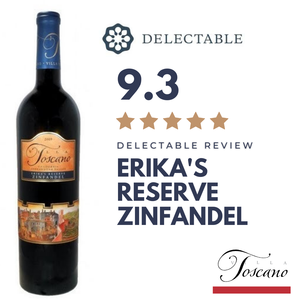 From $57 to $15.84/ bottle when you purchase a case.
Offer valid until November 16th, 2020

Stop by and get your Pizza & Bottle of Wine for only $25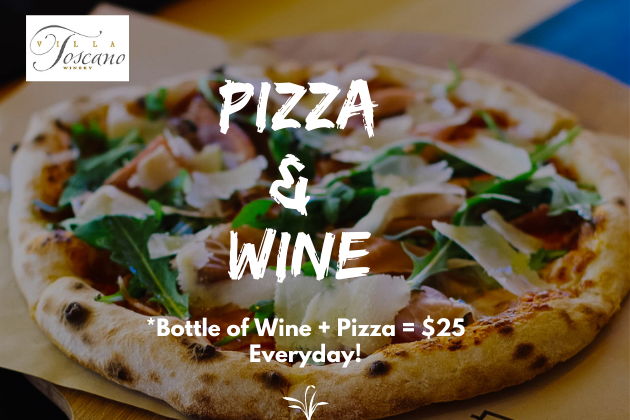 Get a Bottle of Wine (Harmony & Pinot Grigio), and a Chicken Supreme Pizza for only $25. Stop in and order your pizza
at Villa Toscano Winery.