Welcome to the Villa Toscano blog, here is where we will be highlighting events and news from around the winery.
INTRODUCING OUR NEW WHITE SANGIOVESE!
The newest unusual wine in our line, White Sangiovese. Bright aromas
of wihte peach,banana taffy; Bartlett pear and macadamia nut.
Flavors of crisp ripe pear and under ripe kiwi,complimented
by honey and lime sorbet on the finish.
Now available in our tasting room at Villa Toscano. Cheers!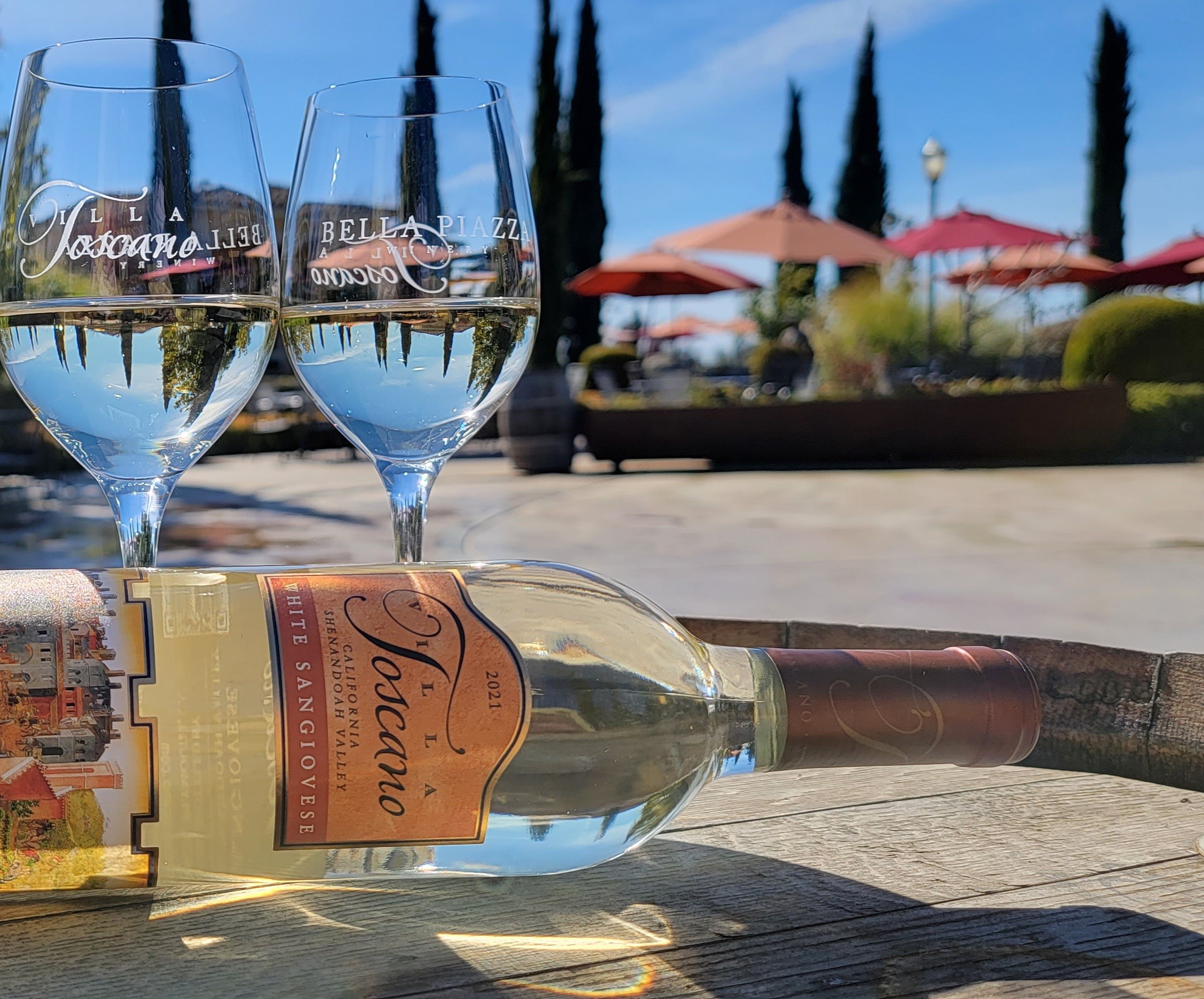 _________________________________________________
VILLA TOSCANO PORT BALLS -Author: Cathy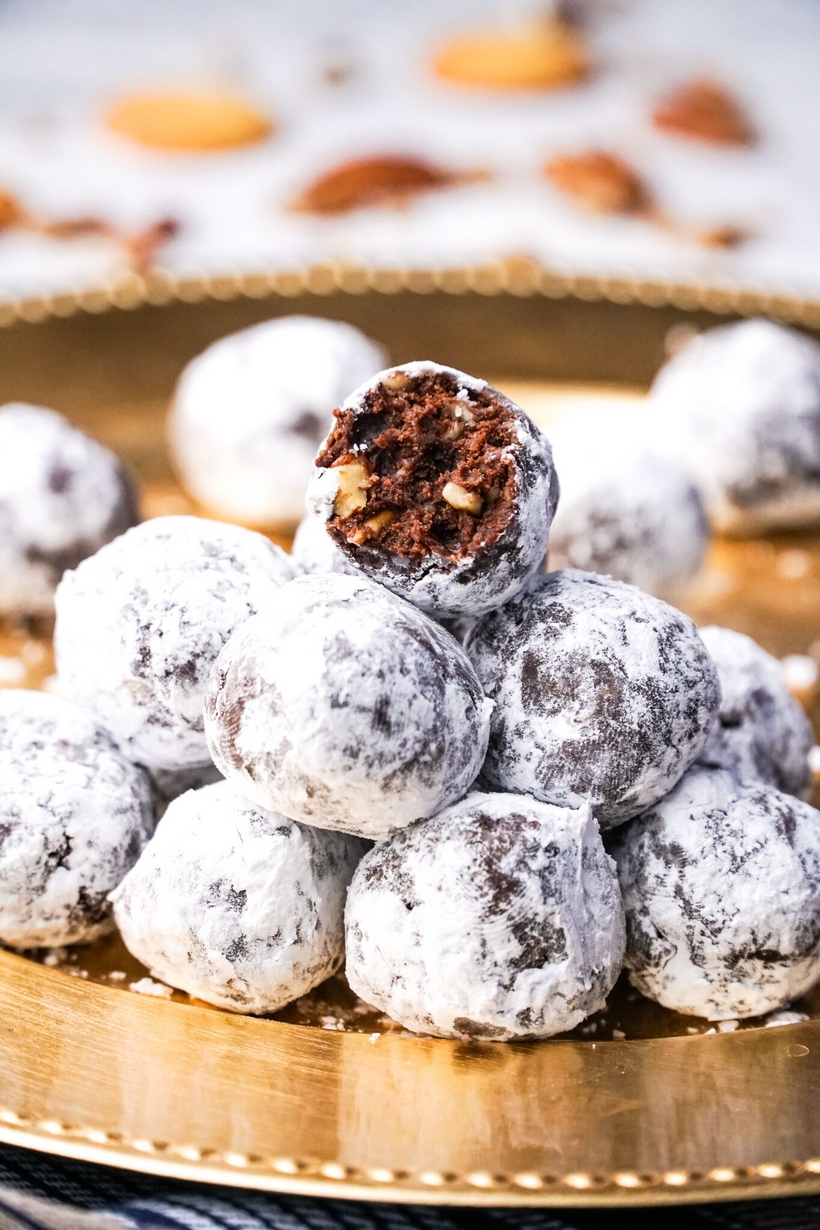 VILLA TOSCANO PORT BALLS -Author: Cathy
Sophisticated and elegant, these Port Balls are a festive dessert for any occasion. The port and cocoa meld together, erupting into a smooth and warming flavor, sans any raw alcohol taste. Perfect for gifting too.
Prep Time15 mins
Total Time15 mins
INGREDIENTS
1 12 oz package Nilla wafers
1/2 cup unsweetened Dutch-process cocoa powder
1 cup pecans, whole
3/4 cup pecans, coarsely chopped
1/4 cup dark corn syrup
1/2 cup Villa Toscano Port
1/2 cup confectioners' sugar
INSTRUCTIONS
In a food processor, whirl vanilla wafers, cocoa powder and 1 cup whole pecans until fine crumbs form.
Add Port and corn syrup to the crumb mixture and whirl again until blended. Scoop out the very sticky mixture into a bowl and add 3/4 cup coarsely chopped pecans. Mix in pecans with a spoon until fully incorporated.
Roll into 1-inch balls and place on parchment paper.
Roll each ball in powdered sugar and place on a lovely tray.
______________________________________________________________
HOT MULLED WINE, A HOLIDAY TRADITION!

INGREDIENTS
1 (750-ml.) bottle 0f Villa Toscano Harmony
1 orange, sliced into rounds, plus more for garnish
6 whole cloves
3 cinnamon sticks, plus more for garnish
3 star anise
1/4 c. honey
1/2 c. brandy
DIRECTIONS In a medium saucepan over medium heat, combine all ingredients. Bring to a simmer not a boil, then reduce heat to medium-low. Simmer gently over low heat for 10 minutes. Serve warm and garnish with more citrus slices and cinnamon sticks.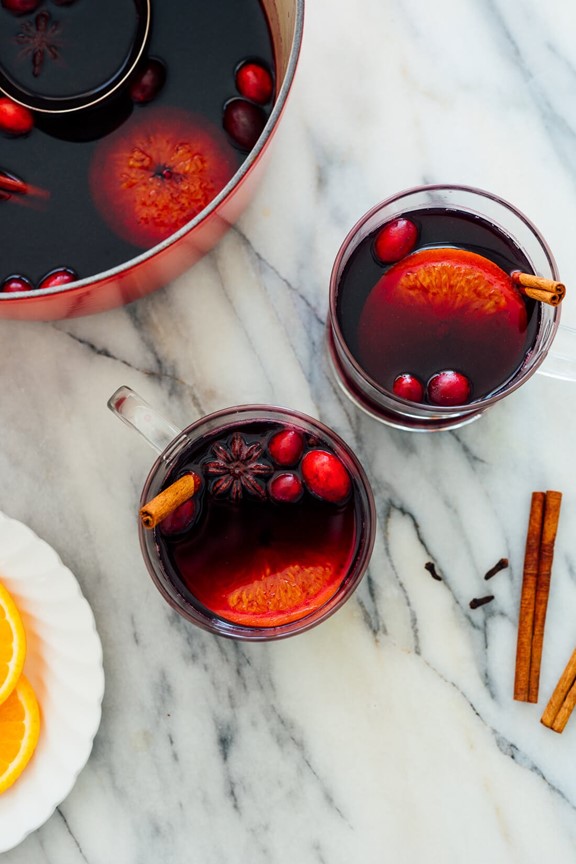 Stop by and get your Pizza & Bottle of Wine for only $25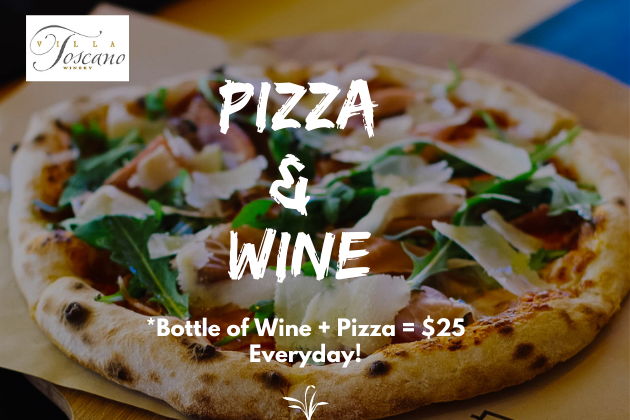 Get a Bottle of Wine (Harmony & Pinot Grigio), and a Chicken Supreme Pizza for only $25. Stop in and order your pizza
at Villa Toscano Winery.